Thanks, Moms
"I remember my mother's prayers and they have always followed me. They have clung to me all my life."--Pres.
Abraham Lincoln
"God could not be everywhere and therefore he made mothers."--
Jewish proverb
1938 Bendix Race
"But go higher - above the dust and water vapor -
and the sky turns dark until one can see the stars at noon."
"I can cure your men of walking off the [flight] program. Let's put on the girls."--Col. Jackie Cochran, champion racing pilot, first woman to fly a bomber across the Atlantic and to break the sound barrier. Although she lost her child while she was still a teen-ager, she mothered many women into aviation and was always generous to those in need.
America's first black poetess
His Excellency General Washington
SIR,
I Have taken the freedom to address your Excellency in the enclosed poem, and entreat
your acceptance, though I am not insensible of its inaccuracies. Your being appointed
by the Grand Continental Congress to be Generalissimo of the armies of North America,
together with the fame of your virtues, excite sensations not easy to suppress. Your
generosity, therefore, I presume, will pardon the attempt. Wishing your Excellency all
possible success in the great cause you are so generously engaged in, I am,

Your Excellency's Most obedient humble servant,
PHILLIS WHEATLEY
(excerpt:)
Shall I to Washington their praise recite?
Enough thou know'st them in the fields of fight.
Thee, first in place and honors,—we demand
The grace and glory of thy martial band.
Fam'd for thy valour, for thy virtues more,
Hear every tongue thy guardian aid implore!
History Now
:
"Wheatley's letter and poem were delayed in reaching Washington, and when he finally replied on February 28, 1776, he began with a formal apology, beggging her forgiveness for "the seeming but not real neglect." After praising her "poetical talents" and thanking her profusely, Washington invited Wheatley to come visit him at his headquarters. Though definitive evidence is lacking, many historians believe Wheatley did travel to Cambridge and met Washington in person, which if true would have been one of the most extraordinary encounters of the entire founding era."
"There are no hopeless situations; there are only men who have grown hopeless about them."
"
Women know what men have long forgotten. The ultimate economic and spiritual unit of any civilization is still the family."
--Clare Boothe Luce, author, war correspondent, Congresswoman, Ambassador
| | |
| --- | --- |
| | "That Girl Benitez" was only 20 years old when she gave it all for us--she never got to be a mom. She would have been a great one. |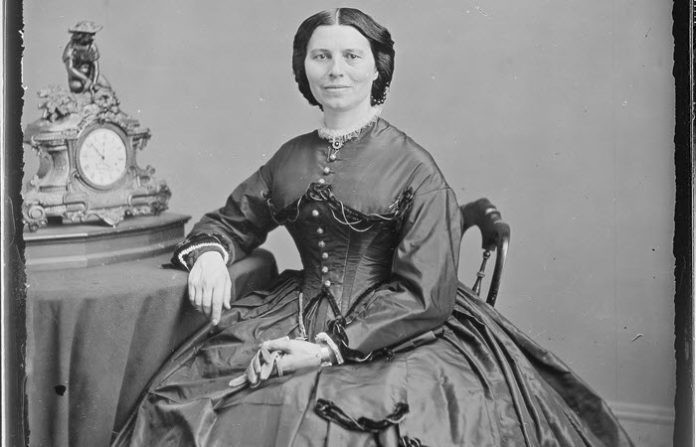 "What could I do but go with them Civil War soldiers, or work for them and my country? The patriot blood of my father was warm in my veins."-- Clara Barton, founder of the American Red Cross