But He Gives Them Chests
"In a sort of ghastly simplicity we remove the organ and demand the function. We make men without chests and expect of them virtue and enterprise. We laugh at honour and are shocked to find traitors in our midst. We castrate and bid the geldings be fruitful."-- C.S. Lewis,
The Abolition of Man
"Instead of having all these individual perimeters around every Dunkin Donuts franchise or every gas station, or ever J.C. Penny, why not have just one big perimeter around the country? We could call it a border! And we could have, like, border security!"--
Mark Steyn
I prefer the
Old Normal
, if it's all the same to you. A couple from Ace:
"A commenter pointed to this New Normal: Good news: The UK is investigating terror. Bad News: They're investigating terror hate from a columnist who urged her fellow Britons to not be cowed but to
stand up to terror.
Katie Hopkins: This is the response from the Met Police to the slaughter of our children in Manchester: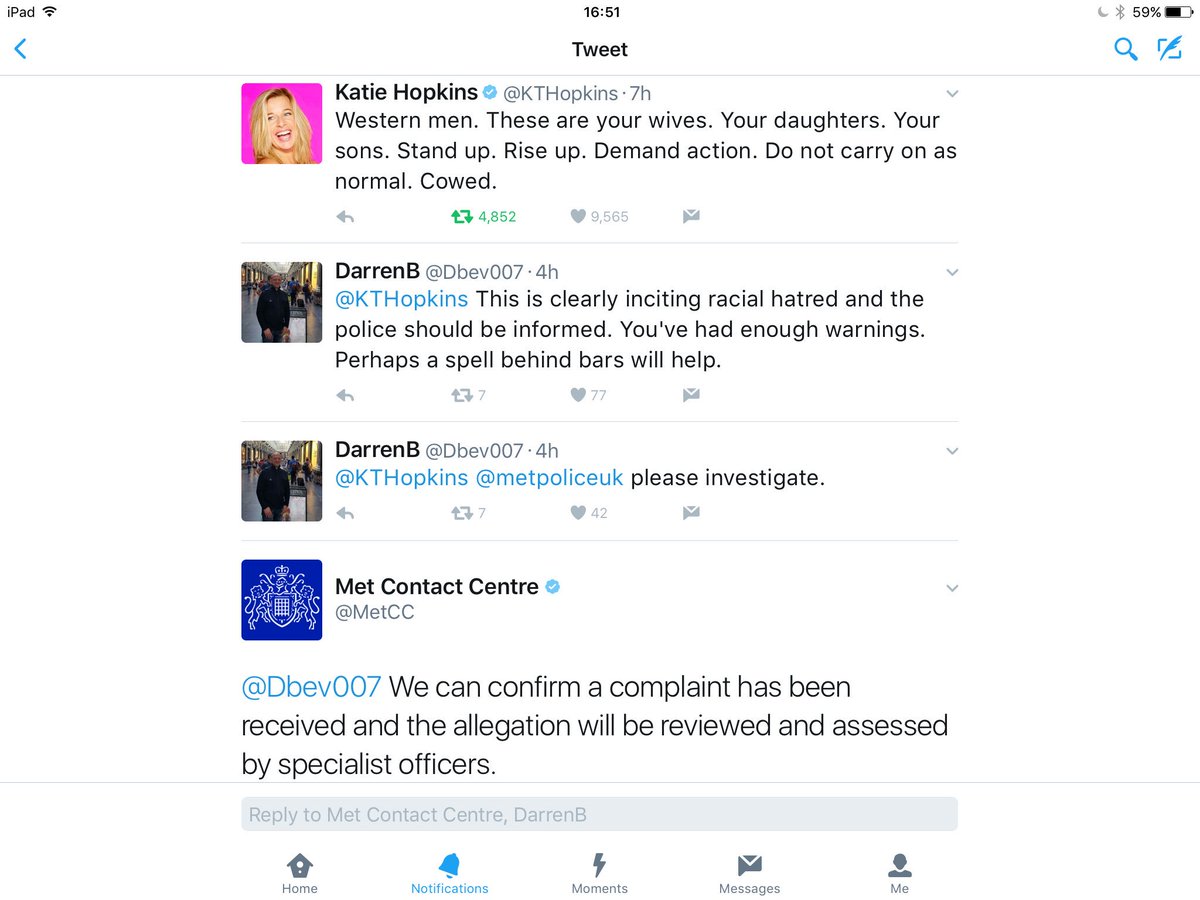 Police resources are being diverted to investigate that even as PM Theresa May ups the terror threat level from "severe" to "critical," telling the country another attack is coming...".......
Former Smiths Frontman Morrissey: At What Point Do We Say Aloud That There's a Problem In Islam?
"For what reason will this ever stop?
Theresa May says such attacks "will not break us", but her own life is lived in a bullet-proof bubble, and she evidently does not need to identify any young people today in Manchester morgues. Also, "will not break us" means that the tragedy will not break her, or her policies on immigration. The young people of Manchester are already broken – thanks all the same, Theresa. Sadiq Khan says "London is united with Manchester", but he does not condemn Islamic State – who have claimed responsibility for the bomb. The Queen receives absurd praise for her 'strong words' against the attack, yet she does not cancel today's garden party at Buckingham Palace – for which no criticism is allowed in the Britain of free press. Manchester mayor Andy Burnham says the attack is the work of an "extremist". An extreme what? An extreme rabbit?
In modern Britain everyone seems petrified to officially say what we all say in private. Politicians tell us they are unafraid, but they are never the victims. How easy to be unafraid when one is protected from the line of fire. The people have no such protections.
Morrissey
23 May 2017.".......
So London mayor Sadiq Khan says
"London is united with Manchester"
?
Actually, London is united with Islamabad.
*(knock knock)*
"Yes?"
"You'll have to come with us, old chap."
"Why?"
"Someone filed a complaint--you said 'Islam is bad'."
"No, I said 'Islamabad'."
"Oh, there you go--you've said it again. Come along peacefully now."
"'ISLAMABAD', officer--it's in Pakistan."
"That's enough Hate Speech from you, lad."
"But, officer..."
"Enough! As an officer of Her Majesty's Government, I am calling for a total and complete shutdown of your speech rights in the United Kingdom until our country's representatives can figure out what the hell is going on!"
Stuff the Teddy Bears-UPDATE
:
Mark Steyn provides Global Content
:
""Carry on" is a very British expression. One thinks of the famous scene in one of the most famous of the
Carry On
comedies,
Carry On Up The Khyber
, surely the most insightful film ever made about Afghanistan: as you'll recall, the revolting Khasi of Khalabar grows ever more enraged at the British Governor's refusal to let the shelling and destruction of Government House disrupt his dinner party. Even when the Khasi has the main course replaced with the head of a decapitated fakir, Her Majesty's viceroy declines to let his eye be caught by these vulgar attention-seeking jihadists. The film received unenthusiastic reviews from London critics in 1968. One would not have predicted that half-a-century later it would be official British policy on the home front....
A few weeks ago the BBC reported that "approximately 850 people" from the United Kingdom have gone to Syria and Iraq to fight for Isis and the like. That's more volunteers than the IRA were able to recruit in thirty years of the "Troubles", when MI5 estimated that they never had more than a hundred active terrorists out in the field....
Carrying on in Germany, Angela Merkel pronounced the attack "incomprehensible". But she can't be that uncomprehending, can she? Our declared enemies are perfectly straightforward in their stated goals, and their actions are consistent with their words. They select their targets with some care. For a while, it was Europe's Jews, at a Brussels museum and a Toulouse school and a Copenhagen synagogue and a Paris kosher supermarket. But Continentals are, except for political photo-ops on Holocaust Memorial Day, relatively heartless about dead Jews, and wrote off such incidents as something to do with "Israeli settlements" and "occupation" and of no broader significance.
So they moved on to slaughter 49 gays in a nightclub in Orlando - the biggest mound of gay corpses ever piled up in American history and the worst terror attack on American soil since 9/11. But all the usual noisy LGBTQWERTY activists fell suddenly silent, as if they'd all gone back in the closet and curled up in the fetal position. And those Democrats who felt obliged to weigh in thought it was something to do with the need for gun control...
So they targeted provocative expressions of the infidel's abominable false religion, decapitating a French priest at Mass and mowing down pedestrians at a Berlin Christmas market. But post-Christian Europe takes Christianity less seriously than its enemies do, and so that too merited little more than a shrug and a pledge to carry on.
So they selected symbols of nationhood, like France's Bastille Day, Canada's Cenotaph, and the Mother of Parliaments in London. But taking seriously assaults on your own nation's symbols would require you to take your nation seriously, and most western citizens are disinclined to do so. As the great universal talismanic anthem of the age has it, "Imagine there's no countries/It's easy if you try..."
So the new Caliphate's believers figured out that what their enemy really likes is consumerism and pop music. Hence the attacks on the Champs-Élysées and the flagship Åhléns department store in Stockholm, and the bloodbath at the Eagles of Death Metal concert in Paris and now at Ariana Grande's "Dangerous Woman" tour.
In the decade since the Canadian Islamic Congress launched their "flagrant Islamophobia' lawsuits over my book, various comrades such as Ezra Levant and Douglas Murray have noted, correctly, that a principled commitment to free speech has always been a minority concern - and an even smaller minority with respect to free speech about Islam. As the most learned imam John Kerry put it with respect to the
Charlie Hebdo
massacre, there was "a sort of particularised focus and perhaps even a legitimacy – not a legitimacy, but a rationale..." Those cartoonists, they were all wearing short skirts and asking for it.
Conversely, most other western citizens believe that, to invert Trotsky, if you're not interested in Islam, Islam won't be interested in you. Ariana Grande was eight at the time of 9/11, and most of her fans even younger. They have passed their entire sentient lives in the age of Islamic terror, yet somehow assume it's something compartmentalized and sealed off from them. "Dangerous Woman" is meant to be an attitude, nothing more - an edgy pose in a pop culture that lost any edge long ago; a great T-shirt, like the ones last night scavenged from the merchandising stands and used to bandage the wounded. It must come as a shock to realize there are those who take your ersatz provocations as the real thing, and are genuinely provoked by them.
"Carrying on exactly as before", as
The Independent
advises, will not be possible. A few months ago, I was in Toulouse, where Jewish life has vanished from public visibility and is conducted only behind the prison-like walls of a fortress schoolhouse and a centralized synagogue that requires 24/7 protection by French soldiers; I went to Amsterdam, which is markedly less gay than it used to be; I walked through Molenbeek after dark, where unaccompanied women dare not go. You can carry on, you can stagger on, but life is not exactly as it was before. Inch by inch, it's smaller and more constrained.
Poland and Hungary and Slovakia do not have Islamic terrorism because they have very little Islam. France and Germany and Belgium admit more and more Islam, and thus more and more terrorism. Yet the subject of immigration has been all but entirely absent from the current UK election campaign. Thirty years ago, in the interests of stopping IRA terrorism, the British state was not above preventing the internal movement within its borders of unconvicted, uncharged, unarrested Republican sympathizers seeking to take a ferry from Belfast to Liverpool. Today it declares it can do nothing to prevent the movement of large numbers of the Muslim world from thousands of miles away to the heart of the United Kingdom. It's just a fact of life - like being blown up when you go to a pop concert.
All of us have gotten things wrong since 9/11. But few of us have gotten things as disastrously wrong as May and Merkel and Hollande and an entire generation of European political leaders who insist that remorseless incremental Islamization is both unstoppable and manageable. It is neither - and, for the sake of the dead of last night's carnage and for those of the next one, it is necessary to face that honestly. Theresa May's statement in Downing Street is said by my old friends at
The Spectator
to be "
defiant
", but what she is defying is not terrorism but reality. So too for all the exhausted accessories of defiance chic: candles, teddy bears, hashtags, the pitiful passive rote gestures that acknowledge atrocity without addressing it - like the Eloi in H G Wells'
Time Machine
, too evolved to resist the Morlocks.
As I asked around Europe all last year: What's the happy ending here? In a decade it will be worse, and in two decades worse still, and then in three decades people will barely recall how it used to be, when all that
warmth and vibrancy of urban life
that Owen Jones hymns in today's
Guardian
is but a memory, and the music has died away, and Manchester is as dull and listless as today's Alexandria. If Mrs May or Frau Merkel has a happier ending, I'd be interested to hear it. If not, it is necessary not to carry on, but to change, and soon - before it's too late.".......